Program management is the discipline composed of composite projects (individual projects managed as a group). This practice is where multiple similar projects are managed in a coordinated fashion rendering a more effective means of assuring project success as a whole rather than separately. In our management consulting division, the firm offers committed program management consulting services by our managers who are specifically identified to address the needs of each client's program demands. Unlike the temporary nature of individual projects, programs can have overlap with other programs and projects where one may conclude and others just begin. This can create a situation where programs are more like ongoing operations but still require deadlines and definite end dates for the projects within them. The Johnson Consultancy initiates customized planning and execution activities necessary to develop the quality benefits expected by the end-user.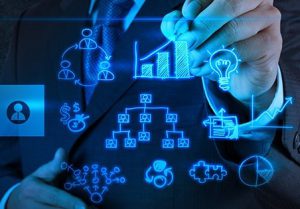 Our planning is generated using the best practices of program management founded on various standards and guidelines in the industry. Our most practical criteria is based on the recommendations of the Project Management Institute (PMI) and we direct this guidance toward our clients' program expectations.
---
In accordance with best practices, TJC approaches program management as follows:
PERFORMANCE DOMAINS
A.1 | Program Governance: For larger professional business organizations in particular, program governance is important. It is the portion of the system for which processes and procedures are implemented. When there is an established program governance board—direction, oversight, and policies for making decisions are facilitated by a team or committee responsible for monitoring or supervising program issues over the life span of the program.
A.2 | Program Strategy Alignment: Understanding where a company [or program] is, compared to where it wants to be, is where strategy presides relative to programs. The client and program manager must see the current state of the program and then identify where they want it to be. After this point, objectives can be formulated to make planned opportunities and benefits a reality through proper implementation of the program.
A.3 | Program Life Cycle Management: In terms of integrated programs, this is the domain where many of the activities flow in a sequence as well as overlapping ways. Depending on the program and its requirements, strong program definition helps articulate the benefits delivery criteria while also spelling out program closure needs. For a program to be successful, integrating the other four domains as inputs and outputs during applicable phases or stage closures is what brings coherency over the duration of the program.
A.4 | Program Benefits Management: Managing all of the expectations of the program as invoked by the client/program manager is the factor that affects delivery. When program managers help define, create, maximize, and sustain desired benefits of the program, good management is said to have been done. Integrating the internal flow of work as well as individuals' from various functional groups should be practical regardless of whether there are repetitive tasks. For benefits to come to fruition, integration of people and activities is necessary for success.
A.5 | Program Stakeholder Engagement: Gathering the accurate needs of stakeholders is similar to defining the program benefits. Meeting the expectations of both requires critical analysis of program impact as seen by stakeholders. For support to be attained and sustained by program stakeholders; effective communication, channeling, listening, and sharing is important for progress. This is a form of integration as well, but on the spectrum of people who will benefit from the program's outcome. One must be sure to pay close attention to stakeholder desires as well as their needs and expectations. This is how TJC maintains stakeholder support until program conclusion.
PROGRAM LIFE CYCLE PHASES
A.1 | Program Definition: For organizations to arrive at the pro forma ideals combined from early strategic thinking conversations, they must also adhere to the agreed upon business case in the form of the portfolio strategy sought by the firm. This means that the program is set up to progress in a manner that builds up the objectives of the corporate strategy. This definition stage ultimately seeks to gain overall program approval by stakeholders based on well defined expected outcomes.
A.2 | Program Benefits Delivery: In this phase, programs do not proceed effectively unless the expected outcomes are previously defined. This comes from information procured in the component projects. Since programs are made up of multiple projects that are sometimes similar or selected based on meeting the strategic goals of a company, benefits delivery comes by way of planning for the combined benefits wherever and as much as possible.
A.3 | Program Closure: In concluding a program, it is vital that all phases and domains be found acceptable to the client before finalization and transfer. The closing of programs require more than quick signoffs and brief conversations. Rather they require a place to sufficiently control and execute closing procedures that are applicable to specific areas of the program as well as the whole. Our program specialists work comprehensively at this stage directly with the client team.
---
The firm's specialty areas of program management are in the architecture, engineering, and construction professions. However, our partners and expert consultants are integrated so general business, information technology, finance, and other types of business organizational needs are served when necessary. Any business model that operates on programs have a much higher probability of succeeding with a professionally detailed program plan. The Johnson Consultancy is the consulting firm that can make that happen for those who struggle finding time to develop a solid realistic plan. Not only will we create the plan in conjunction with your internal team, we offer the option to also provide full management execution of the program itself. This can be performed either in consulting assistance with your managers or as the direct contracted program manager for your business endeavor.
Please give us a call or email to discuss your program needs.